--------- Samedi 16 Juin 2012 ---------
LE RIGOLETTO
(PARIS - 20) 20:00 - 23:00
JAAM SONO PRESENTE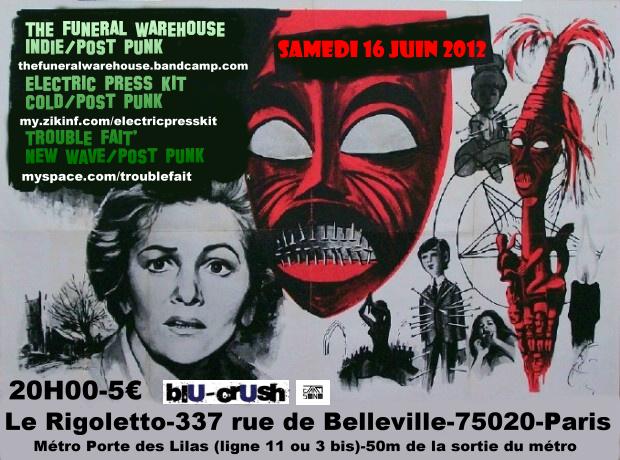 THE FUNERAL WAREHOUSE
(Indie/Post Punk)
http://thefuneralwarehouse.bandcamp.com/
The Funeral Warehouse est un groupe de post-punk, créé par Sébastyén D., en 2010. TFW sort un premier EP (Hourglass & Waterlilies) en 2010, aux sonorités encore assez proche de l'ancien projet de Sébastyén D., Orchid's Children (alternatif/grunge/indus) puis un second EP, Behind The Wall, en 2011, aux sonorités nettement plus post-punk/goth. Entre temps Aurélien et Rodolphe ont rejoint The Funeral Warehouse, respectivement à la basse et à la batterie.
ELECTRIC PRESS KIT
(Cold/Post Punk)
http://epkmusic.com
http://www.myspace.com/electricpresskit
Le Samedii 16 juin, après , Reims, Marseille, Le Mans, Toulouse ou Strasbourg, c'est enfin au tour du Rigoletto d'accueillir les punk rockers d'Electric Press Kit pour un set électrique dans tous les sens du terme!!! C'est l'occasion de retrouver le duo dont le magasine Elegy (n°69) écrivait récemment qu'ils étaient un des meilleurs espoirs du post-punk français avec leur hit potentiel "Power of Hate"!!!
TROUBLE FAIT'
(New Wave/Post Punk)
http://www.troublefait.com/index.php
http://www.myspace.com/troublefait
Combo cold wave/goth rock survivant des 80's. Leur dernier album en date (Comet Camden) est un vibrant hommage à l'Angleterre des années post punk chère à The Cure, PIL... Leur participation à divers tributes (Joy division, David Bowie, Siouxsie & The Banshees, Charles De Goal) et compilations du cru, assure aux nordistes une vitalité et une renommée bien méritée!
PAF: 5€
LE RIGOLETTO
337 rue de Belleville, 75020 Paris
METRO PORTE DES LILAS (LIGNE 11 ou 3BIS)
A 50M de la sortie de Métro
Préventes :
http://www.wooticket.fr/trouble-fait-epk-the-funeral-warehouse
https://www.facebook.com/events/392566870761873/